Rock Your Job Hunt
Request an application
Once you've introduced yourself and met the manager or employer, it's time to ask for an application.
Here is where your résumé comes in handy as it has all the information you need for the application! Asking your parents or older sibling to help you out with your first application is the best idea. They'll be able to give you tips on what to write and how to sound professional.
Return the completed application to the employer as soon as possible. This will show the employer how serious you are about the job and your dedication. After turning in the application, there's only one step left before you get the job...
The interview: how to shine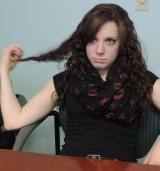 Here are some sur-fire ways to kill a job interview.

After deciding where to apply, writing your résumé, and filling out the application, it's time for the most important part of getting a job: the interview!
Without knowing the people interviewing you, the questions they might ask, or what they expect, interviews can be very confusing and intimidating.
I remember when I interviewed for my job at a local theater, the manager asked me a couple of questions I didn't expect. He asked what my favorite color was and why. Not so surprising, he asked me what my favorite movie of all time was.
The best tip I can give is to stay confident! No employer will hire a person that appears nervous, hard to reach, and choked up during an interview. An employer wants to see a potential employee have a good attitude and be positive in his or her responses.
After the interview, be sure to mention that you'd love to get the opportunity to work for the business—ask for the position! This one thing is missed by the vast majority of teens. Don't be shy about it. It shows that you are serious about wanting the job.
A final tip is to be yourself. Be honest with everything you say and be as friendly and outgoing as possible. If your employers can easily talk with you, they'll know that future customers and co-workers will be able to as well.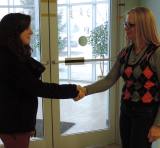 It's hard for teenagers to get that "you're hired" handshake!


The interview is most definitely the most important part of getting a job—take it seriously!
You're hired!
All in all, it takes a lot of preparation, hard work, persistence and follow-up to get a job as a teen.
If you take these tips into consideration, you will shine above the other candidates and hopefully hear the words you are looking for— "You are hired."
Good luck!

True or False: Ever the inventor, Benjamin Franklin had over 100 patents by the time he died. Click Ben's head for the answer.
FALSE: Franklin did not patent any of his inventions. Considering the number of them and their implications to society, he could have made a fortune from his innovations.
Tweet