Rock Your Job Hunt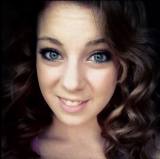 It doesn't have to be scary.


Applying for a job can be scary, confusing, and even nerve-racking. However, there are skills and tips all teenagers can learn that will help them land the job they want. All it takes is a little dedication, positivity, and hard work.
Location is most important
One of the most important parts of finding a job is being aware of your desired location and transportation needs. If you're younger, let's say 15 years old, you'll be dependent on a parent or friend to drive you to work.
With this in mind, focus on finding a job close to your house to make your transportation a bit easier on whoever gives you a ride. You may even find a job within walking or biking distance, or one that's easy to get to with public transportation.
Talk yourself up in your résumé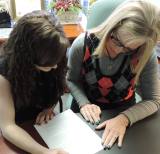 Be confident when you show your résumé.


Once you find a place you want to apply to, it's time to take the next step—writing your résumé. A résumé is a compilation of your accomplishments along with some added information about yourself.
If this is the first job you're applying for, your résumé might be slim, but don't worry, an employer will take your activities in school and community involvement into consideration.
On your résumé, include information such as grades in school, classes taken at school, previous jobs, group/club activities and involvement, awards or honors received, and maybe even your hobbies. Include any volunteer work you've done, too. Don't be afraid to talk yourself up in your résumé!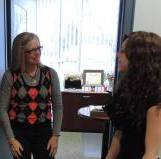 Meet the manager!


How to meet the manager
When stopping in to a location you'd like to apply at, the first thing to do is ask to speak to the manager. A manager will be able to help you out more than just an employee.
Once the manager approaches, firmly shake his or her hand and introduce yourself with a smile on your face. A friendly face and solid handshake will "wow" the potential employer and give the impression that you're a likable and professional person.
I also make a note of the manager's name. Every time I do this, I enjoy seeing how impressed the manager is when I come back and remember his or her name.
Be sure you already know what job you're applying for before you go into the establishment. If you're applying at a restaurant, for example, decide if you want to be a waitress or waiter, hostess or host, busser, dishwasher, greeter, or any other positions they may be offering.
Knowing the exact position gives you the opportunity to mention the skills you have that make you the best candidate for that position...
Tweet