Scholarship Search: App Makes It Easy
by Olivia Deng, The Triangle, Drexel University
Christopher Gray, nicknamed the "Million Dollar Scholar" after securing $1.3 million in scholarships, is a co-founder of
Scholly
, an Android and iPhone application designed to streamline the scholarship application process.
Find scholarships fast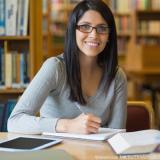 The search is extremely simple.


Scholly boasts an adaptive matching engine designed to help students simplify the scholarship search.
"It's an app that creates a fast and simple way for students to find scholarships for college. And it doesn't just focus on high school students. It's for those who are currently in college, too, so it includes undergraduate and graduate students as well," Gray, a pre-junior studying entrepreneurship, says. "So it makes the process as simple as possible. You don't sign up, and the search is extremely simple. You're matched with scholarships you're eligible for in a minute."
To increase convenience, users can save the scholarships they qualify for and email the list of saved scholarships to themselves. Examples of scholarship-winning essays are also included on the app.
Scholly, which contains an extensive database that is updated on a monthly basis, has eight filters to narrow the scholarship search for students.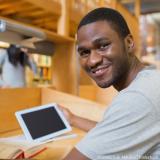 You don't need to create an account.


App above all other apps
"It took me six months to actually create the database," Gray says. "I went through thousands of scholarships and asked myself, 'What are the eight things scholarships look at?'"
The filters that Gray and the other co-founders devised are state, race, grade point average, gender, need or merit based, grade, major, and miscellaneous. The miscellaneous category includes specific personal characteristics such as religion, sexual orientation and disabilities.
Though the specific filters set Scholly apart from other scholarship apps, Gray says that what makes Scholly different is that users do not need to create an account.
Learn about Scholly's founders.


"Other scholarship apps, it takes like 30 minutes to sign up. You have to give your personal information, your address, what you like … I mean, it just takes a long time to sign up," Gray says.
The filters and lack of sign up aren't the only features that set Scholly apart...
Tweet