Get More From Movies

"Before you see the movie, read the book."
—Anna (right)


Do you like movies? I do. And my family and I enjoy preparing to see the movies just as much.
We probably do movies a little differently than most. My family's motto is: "Before you see the movie, read the book."
Lights, camera, READ!
We love reading books together. My family likes to read aloud at bedtime or whenever we have down time—like when we are waiting to see the doctor or on a long car trips. We usually take turns reading aloud.
Sharing books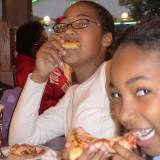 Sharing books over pizza is like having our own book club.


When my sister and I share books we've read with our family, we like to do oral reports—which are like retelling the stories. We usually talk about a few chapters at a time, sometimes before bed or over dinner.
My friends and I also share books that we have read together. We talk about them during recess or after school.
My friends and family also share written reports that include hand-illustrated summaries of the stories. I like drawing the pictures.
Right now we are reading "Eragon" and have plans to begin "A Day with Wilbur Robinson" so that we can be ready when we see "Meet the Robinsons"...
Tweet