Do It Yourself Without Spending It All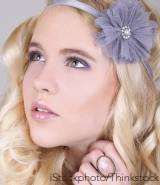 Make flower accessories for your hair.


It seems that prices are rising for everything these days. When I go shopping it feels as if prices for simple hair accessories have gone through the roof. Prices for headbands range from $12 to $15—I think that's way too much for a hair accessory.
There are so many ways to reuse old supplies or buy low cost supplies and make your own accessories that look store-bought.
Here are some creative creation tutorials that show you three inexpensive ways to be creative and accessorize without emptying your wallet.
Springtime floral headband
You need:
A hot glue gun and glue sticks
Scissors
Floral embellishments
Elastic
Instructions:
Use your elastic to measure around your head.
Mark where to cut your headband and cut off where you marked.
Line some hot glue at the end where you will connect your headband.
Glue the two ends together.
Apply a very small amount of glue on the backs of your floral embellishments and put them all the way around your headband.
When you glue the embellishments on, space them about one to one-and-a-half inches apart.
This is a low-cost way to make a headband that otherwise would cost $12. Use any color or width of elastic and different kinds of floral embellishments to make each one unique.
You can make more than just accessories...
Tweet