Crazy, Costly, Soccer
Have you ever wondered how much money competitive travel sports cost? It may surprise you how much time and money you spend on these select teams.
I know firsthand the costs and benefits of traveling sports as I play soccer for the No. 2 ranked team in Ohio South. This season we are traveling to tournaments and playing games all across the Midwest and Southeast with a common goal: Attract the attention of college coaches and win games!
Competitive sports cost money
Here is the breakdown of expenses my family of four incurred over a recent five-day visit to the Sunshine State—Orlando, Fla., to be exact:
| | |
| --- | --- |
| Hotel costs | $652.52 |
| Gas costs | $255.00 |
| Food costs | $317.60 |
| Tickets to game venue | $88 |
| Souvenirs | $150 |
| Total | $1,463.12 |
Some team members also flew to the tournament, which resulted in additional costs for airfare and rental cars.
Was it worth it? ABSOLUTELY! The team took second place in the No. 1 ranked soccer tournament in the country and had an opportunity to be seen by many elite level college coaches!
Besides the expense for actually traveling to tournaments there are other costs associated with travel sports. You pay for coaching and training, which usually is two to three times a week.
There are also administrative fees, tournament entry fees, and referee costs. Add in new uniforms every couple of years, soccer gear including cleats, shin guards, and so forth, and the cost can be overwhelming.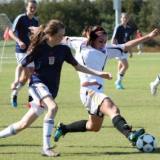 Give your team your best effort!


Competitive sports require devotion
As a player on an elite level travel team, you must be devoted to your team. You spend lots of time with the coaching staff and other players and they become like an extended family. Each member of the "family" must put in the best effort to help the team win and succeed, and often you have to put aside your personal goals for the good of the team.
As when families spend too much time together, there are sometimes personality conflicts and issues on the team both on and off the pitch. If you are not dedicated to your team and the sport of soccer these conflicts can be overwhelming at times.
Good leadership from the coaches and team captains, along with open communication between teammates, is essential if your team is going to be successful.
While I wouldn't trade my soccer experience for anything, there are definitely some other factors to consider before joining a traveling soccer team...
Tweet