Typical Day Working at a Credit Union
I started working at a credit union at the age of 14 as a teller. Two years later I can say it is one of the best first jobs I could have. To be honest, I didn't even know what a credit union was until training week!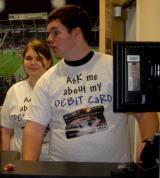 Come to the Panther Branch.


I'm 16 years old and I'm a teller?!
I get asked all the time, "How are you a teller if you are a high school student?" It's actually a fun question because then I get to tell them about my credit union's student teller program.
Rogue Federal Credit Union created the student teller program in 1993.

The program consists of 16 students from four different high schools in Southern Oregon. Each school has a mini credit union built into the school. At my school we have the "Panther Branch".
Student employees serve our student members. Students can come in and make deposits, withdraw money, and open new accounts. The student tellers get a class credit for working in the student branch and get paid to work in the branch. I serve as the student branch manager and help run the branch at my school.
I help plan the grand opening every year.


Being a part of the Panther Branch means I get to help plan our grand opening every year at the school! This year we had a DJ and prizes. More than 400 students attended!
Along with working at school I get the opportunity to work at the credit union in my community. On most days I get to work around 3:00 p.m. on school days and work until 6:30. I either work on the teller line or at the drive-up window.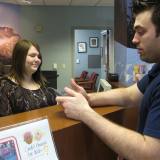 I work in the "Big Branch," too.


Working at the "Big Branch"
The teller line is where members walk up to a teller and do their transactions. While I'm there I help members with all types of things such as…
Deposits (members put money in their accounts)
Withdrawals (members take money out of their accounts)
Loan payments (member makes a payment to a loan they have with the credit union)
… and other transactions. While in drive-up I help members who have quick transactions.
At the end of the day everyone working helps close the branch. In my first year working I actually learned how to close the branch.
Through my work experience I've learned that credit unions are very involved in their communities...
Tweet