Driver's Dilemma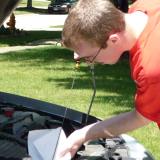 Check oil levels.



Save gas, save money
Unfortunately, our generation is reaching driving age while gas prices are still high. When going to fill up, shop around and make sure you're getting the lowest price.
I use websites such as GasBuddy that can help you do this before you ever leave your home. You can also get a free GasBuddy app for smartphones.
When you get to the pump, make sure you're using the lowest grade recommended for your car—in most cases this is usually the big button with an 87 on it.
If you can, try to make it to the station when it is cooler, such as in the early morning or at night. Gasoline is measured and sold by volume, so when it is denser in the chilly weather, you get slightly more gas for your money.
There are several ways to make your car more efficient:
Make sure your gas cap is on tight so no fumes can escape from your tank. On most models you can tell by listening for the clicks as you tighten it.
Change the air filter frequently to keep your engine from working harder than it has to.
Keep the proper air pressure in your tires so your car drives efficiently.
Lighten your car.
Another area that is often overlooked for increasing efficiency is your driving habits. Even though it may not be considered cool, driving the speed limit is better for your gas mileage—and helps you avoid pricy speeding tickets and stay safer, too. Remember, you pay for tickets twice—when you pay the fine, and later in higher insurance rates.
More important than your overall speed, however, is acceleration and braking. Jerky and rapid speeding up or slowing down will burn more gas than gradually, smoothly, getting up to speed.
Finally, minimize the time you spend idling—when you idle, you're literally just sitting there burning gas. When I pick up friends, I will turn the car off while I wait for them.
Simple habits like this add up in the long run.
From tune-ups to major repairs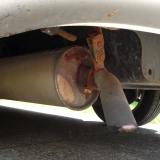 All it took was a simple clamp from the suto-parts store.


Nobody likes to think about it, but sooner or later all cars will need some type of maintenance work.
For simple fixes, where the parts are small, usually labor is the biggest cost of taking your car to the shop. If this is the case and you feel comfortable doing so, just buy the part and install it yourself.
This is especially true of routine maintenance—such as an oil change, filling the windshield wiper fluid, or inflating the tires.
It can also work with small repairs. For example, the hanger holding up the tailpipe of my car rusted through. A simple clamp from the auto parts store was easy to install and saved a ton on labor.
However, always make sure that you know what you are doing when working on cars. Finding the cheapest solution should never compromise safety. And if you screw up something badly enough, it may end up costing you more to have a professional fix your mistakes.
For major repairs, take your car into the shop. Like I said before, you don't want to compromise your own safety in the interest of saving money.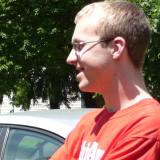 Driving gives you a lot of bennies.


But you can still save, even when taking your car to the professionals. Shop around for the best price or for deals. Many shops will match a competitor's price on a similar service.
Sooner or later, you'll probably need to have something major or unexpected done to your car, so put aside some money in an emergency fund at the credit union to pay for unexpected repairs.
Enjoy!
Driving can give you a new sense of freedom, an independence from your parents, and can even be fun.
If you work on these tips, and budget your money wisely, there's no reason why you can't enjoy this new opportunity without breaking the bank.

True or False: Franklin was one of three people who wrote the description for a seal of the United States of America. Click Ben's head for the answer.
TRUE: On July 4, 1776, the Continental Congress appointed a committee consisting of Benjamin Franklin, John Adams, and Thomas Jefferson 'to bring in a device for a seal of the United States of America.'
Tweet