Tough Mudder Racing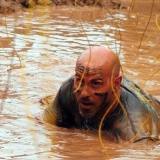 There's mud…


The Tough Mudder is an event for everyone ages 18 and older in which you run 10 to 12 miles through military-grade obstacles built to test your speed, stamina, and strength.
One of the main purposes of this event is fostering teamwork. For example, if someone is struggling with an obstacle all the other participants help in any way possible.
There's more
My uncle Ryan was one of the participants of the Tough Mudder. He spoke to me about his experience.
One of the points my uncle stressed was that he thought it was an amazing thing to do for a wonderful cause.
You see, not only is the Tough Mudder a spectacular way to exercise and enjoy the outdoors, it also gives most of its proceeds to the Wounded Warrior Project.
The price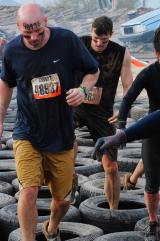 Don't do this without practice!


This incredible experience doesn't come without hard work.
Three or four weeks before the event started, my uncle—who was already in great shape from a regular workout routine—was in the gym lifting weights and going on long runs.
He wanted to work on his core and stamina to make sure he was ready for this race.
One story my uncle tells is how every week he would add more distance onto his runs to prepare himself for the giant task.
He started with two miles a day until he was running a good 10 miles daily the last week.
Finally after these weeks of hard work he was ready for The Mudder...
Tweet