Travel on the Cheap--a European Adventure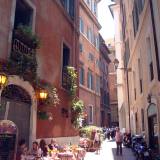 Travel tip: Make time to wander.


Have you ever wanted to travel around Europe? After I graduated from college, I spent three weeks traveling all over Europe with two friends. It was the trip of a lifetime!
I learned a lot about traveling on the cheap while planning, organizing, and actually experiencing the trip. It wasn't easy, but it was definitely worth it.
Get on the same page
Before you can even begin planning a trip, determine how much money you can spend. If you're traveling with others, discuss everyone's budgets to make sure you're on the same page.
When my travel buddies and I started talking about budgets, we agreed we wanted to spend as little money as possible, but see and do as much as we could in the time we had. This meant we had to budget our money and our time.
Oh the places we will go!
Our first list of cities and places to visit was over two pages long! We knew this would be impossible with our time frame. We made some tough decisions about where we absolutely wanted to visit.
When we finally narrowed our list, we had seven major cities: Dublin, London, Athens, Rome, Florence, Barcelona, and Paris.
Next, we researched the most cost-effective ways to travel between cities. We learned that there are many low-cost options, especially if you use planes and trains.
Although it would have been a little cheaper to take the train between some cities, it turned out being worth it to spend a little more to save hours of time traveling.
Building our itinerary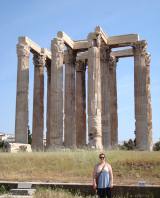 Check out our itinerary for just one day in Athens.


Once we decided how we would get from city to city, it was time to start planning our agenda.
We brainstormed our "must-dos" for each city and then divided up the cities and began researching.
Our research led us to various travel books and websites. We looked at hours, location, prices, and discounts to build our list.
Although it was a little bulky it proved to be invaluable, especially when it came to eating and navigating.
All this information helped us plan how much each day was going to cost, the order in which we should see things, whether or not we should book online, and provided other helpful tips.
Once we had all the details of the places we wanted to visit, it was time to build a rough itinerary. We made some tough decisions about what we had time to see, how much we were willing to pay for tours and attractions, and what spots we could lump together.
When you're planning a multiple city trip, be sure to include travel days in the itinerary. Most of our travel took up a good part of a day.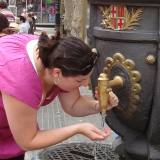 Cash, credit, or debit?

The euro
If you're traveling outside the U.S., make sure you have the correct kind of currency. In Europe, all of the countries and cities we traveled to use the euro, except England, which still uses the British pound. The symbol for the euro is €, and the symbol for the pound is £, just as $ stands for dollar.
As we looked into prices for hostels, flights, and other items online, we needed to convert prices from euros to dollars to better understand how much things were going to cost, including currency exchange fees.
Before we left, we ordered some euros and pounds so we'd have some currency on hand before we landed. While traveling, we used ATMs (automated teller machines) to get more funds or visited currency counters in airports to exchange traveller's checks.
Whenever I travel in the U.S., I generally stay in a hotel or motel...
Tweet