Make Your Money Work in a Roth IRA
First, earn income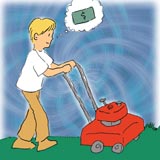 Earning income is work!


The most important factor about the contributions you make to your Roth IRA is that it all has to be
earned income
, meaning you worked for every dollar.
Don't worry; this is a lot easier than it sounds.
For all you teenagers who can have summer jobs like me, open up a savings account and start depositing $50 from each paycheck, and move this into your Roth at the end of the year.
If you aren't old enough or fortunate enough to be employed yet, try mowing lawns or babysitting for neighbors.
Every little bit counts, so even occasional $5 jobs will add up.
Second, set up your IRA
There are many different places you can go to set up a Roth IRA, and each has its own risks and benefits.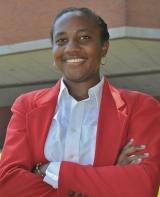 Meet Ionnie: The Baby Billionaire.


A credit union or bank:
They offer share certificates/certificates of deposit (CDs), savings accounts, and savings bonds.
Your money is safer here because it is insured, but the interest is relatively low.
Opening up a Roth IRA might only require $100.
Your local investment company:
They help you purchase stocks and mutual funds.
You risk losses in the stock market, but you might also receive significant gains.
Before you choose one of these options, have your parents help you call area financial institutions to research interest rates. Talk to the people at your credit union to develop a savings plan that fits you the best.
A little bit of research will pay off, trust me.
My Advice
When I opened up my Roth IRA, I was 13 years old. At that time, my income consisted of babysitting and working at my parents' restaurant. While I earned quite a large sum of money, I quickly learned that it was hard to not spend my earnings.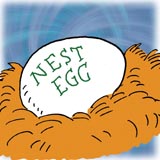 Cool facts and information...


When I opened up my Roth, I took $500 (after taxes) to a local stock broker for a stock-based IRA plan. Besides starting my account, this allowed me to learn more about the stock market and how my account functions within the market.
I continued to save money, and I added as much as I could to my Roth every year; usually around $500. Once I started working, I set aside $2,500 to deposit every year. Today, it is worth about $6,000.
However due to the constantly changing stock market, the value will rise and sometimes fall a little every day.
Because I focused on saving and investing, I had to start keeping my expenses to a minimum. Instead of getting ice cream with some friends or going out to a movie, I planned movie nights at my house for free, and kept a couple extra dollars in my change jar to add to my Roth IRA.
Neither CUNA nor the author of this article is a registered investment adviser. Readers should seek independent professional advice before making investment decisions.

True or False: The 'C' in C-Note, a nickname for the $100 bill, stands for 'Commission.' Click Ben's head for the answer.
FALSE: The "C" comes from the Roman numeral for 100. This nickname was popular in the early 1900s. Other nicknames for the $100 bill include Benjamin and the Texas Penny.
Tweet