How to Audition for a Play
At the audition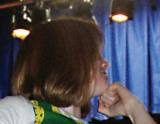 At the audition, it's all you...


Now that you know how to prepare, here are some things to do (and not) when trying out.

At the audition, directors are looking for certain things offstage as well as onstage. So, to start, be on time and be prepared.

That shows that you really care and want to be there. Also, they want people who are easy to work with, and who come to act, not to socialize.

But they don't want someone who's shy either. So be yourself,Be Yourself

Be respectful. It doesn't look good to have to ask what was said because you were talking to a friend.

Try to just be yourself, and be friendly. If you are not friendly to other people, it sends the signal that you might not be easy to work with.

Close

but be respectful of everybody, listen to what you're told, and follow directions.

Most of the time there will be a form to fill out at the audition. A typical one asks you to write out your name, phone number, e-mail address, parents'/guardians' names and contact info, and schedule conflicts.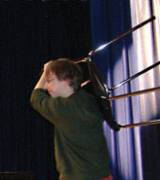 Use those props!


The formCompleting the Form

When filling out the form, be sure to fill it out as neatly and completely as possible. Most of the time community theater or school productions don't require a portfolio or headshots.

But, if you are planning on going into an acting career, it might be a good idea to write down the plays you've been in, what role you played in each, and what company put on each show. That way you can have accurate information for the future.

Close

will ask about your past acting experience. It may also ask if you know anyone who can help with costumes, makeup, hair, or set building. If you don't know anyone, that's OK.

Last, but certainly not least, is reading. I know from experience how nerve-racking it can be. Most important: Breathe, keep your head up, and try to relax.

Don't worry if you stumble over a word, or read the wrong line. It's your first time readingReading

Be confident, and even if you're not, pretend you are. You're an actor; people will believe you!

Tip: Speak loud! This is hugely important, because you have to be heard in all the corners of the theater.

The director of a play I was in said, "Pretend that there is an old grandpa at the back, who forgot to turn up his hearing aid. Even he should hear you."

Close

the script, just like everyone else, so no one is going to judge you. Keep going, and keep cool.

Include the props and set in your audition. If you are given a prop, use it. Look at it, hold it, set it down, or pick it up...
Tweet