Used Wheels, New You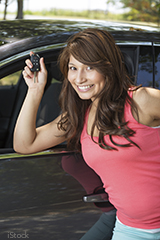 Go online to view safety ratings, vehicle condition, and a history report.


Do the research
Check out Web sites such as carfax.com and edmunds.com. These sites help you find exactly what you are looking for, including safety rating, vehicle condition, and a vehicle history report.
Many dealerships offer certification programs that can protect you if any mechanical problems arise after the purchase. These programs are effective, depending on the source of the certification.
Buying a "certified" used car is kind of like buying it with a guarantee. Be sure to read the fine print of the warranty to see what it covers and just understand that buying a certified used car can possibly add on a significant chunk of money to the price tag.
If you end up planning to buy a non-certified used car, make sure to have a qualified mechanic inspect it first.
My used car
I am happy to say that I am a used-car buyer. I purchased a six-year-old Honda Accord EX. I first researched it online to see what I liked, since it was the first time I bought a car.
I found Honda to be great for reliability and performance. I was mainly influenced by the consumer reviews I read. Then, I hunted around dealerships with my mom for several days trying to locate the specific model.
I told the dealer I would like to see the warranty and other past information, such as maintenance records. After the records checked out, I test drove it and immediately told my mom, "I can see myself driving this car!"

Since my dad has an excellent credit score, it was easy for him get the loan and lock in a low interest rate of 3.8%.
I am so happy that I now have my first used car, and I can reap all the savings. If it worked for me, it can definitely work for you, too.
Go out there and start your research-you can have your first used car in no time.

True or False: Benjamin Franklin had to invent a lot of the terminology regarding electricity. Click Ben's head for the answer.
TRUE: He is credited with the first use of 25 words regarding electricity, such as battery, charged, conductor, positive and negative (in the electricity sense).
Tweet