New Ways to Use Old T-Shirts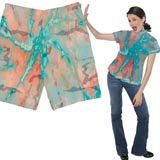 Don't throw out old T-shirts!


As the flowers bloom and the weather turns warm, teenagers grab their comfortable ol' tees. Yet, some of those tees may not be your best choice to wear because they are:
Stained
Too small
Just not in style anymore
You may be tempted to toss out your old T-shirts to make room for new ones. But, before you do, consider what you can do with them, whether it's wearing them in new ways, creating new uses for them, or making sentimental keepsakes.
Here are 10 of my favorite ways to re-use and re-purpose old T-shirts:
1. Make a pair of shorts
An extra-large T-shirt handed down from your older (and bigger) brother or sister can be re-made into a new piece of clothing: shorts! Yes, a little sewing is required, but the results are definitely worth it.
All you need is an extra-large T-shirt, scissors, chalk, and a sewing machine. The design on the front of the shirt ends up being on the side of one leg of the shorts. There are many steps, but it's pretty simple.
2. Cut the shirt
If you're not really into the design or style of the shirt anymore, but still like the color, then grab a pair of scissors and
transform your tee
.
3. Tie-dye it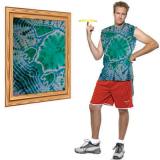 What's the best way to tie-dye?


Just because the shirt has some spots doesn't mean you have to throw it away. It can still be worn after some tie-dying skills have gotten hold of it.
If the stain is dark, use darker rather than lighter colors, so the stain is not as obvious.
Unfold your beautiful T-shirt, and then hang it up to dry.
If you have a younger sibling who still plays with dolls...
Tweet