Volunteering Lets You Pick Your Interests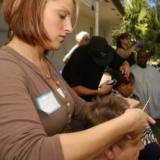 The rewards come back at you.


Ever since I was very young I have believed it is important to give back. When you have been blessed with having all of your needs and most of your wants met, it doesn't take much to give back to those who have very little or nothing.
When you give back, your social awareness will be enhanced because, as a volunteer working with others, you'll learn to appreciate and work with people's differences.
You will develop skills that may help you get a career, as well as develop characteristics that will benefit you in the workplace.
You know the cliché, "Make the world a better place." Well, you can! Everything you do, no matter how small, helps.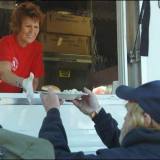 You can always give a smile!

Part of our growth and motivation as people comes from giving to the greater good—knowing we're a part of something bigger than ourselves.
While "making the world a better place" often makes you think of great leaders, researchers developing cures, or geniuses dreaming up theories, smaller actions create happiness in the lives of those around us, too.
Paying someone a compliment, sending a kind text message or e-mail, or tipping someone extra are all little gestures that can create and strengthen our sense of community. And that's no small matter!
Besides the benefits you get in the workplace, you get personal benefits from volunteering. You:
We spend a year preparing for the Day of Hope.

What it means to those you help
In addition to all the benefits I've gained from volunteering, by giving tangible things to those in need I've learned to appreciate what I have.
For many years as a child, I donated items to others who had very little. As I got older—the old age of 10—I decided to donate some of my time to the kids in our church.
Our church is a community church, meaning we purposely are located in what some people would call a "bad" area of town, so we can be there for the less fortunate.
I joined Outreach, a ministry in our church that provides a food pantry for the area homeless. We distribute food, clothes, and money.
Our pantry runs every day, except Sunday, and we serve approximately 100 people a day. That's a lot of hungry people!
Once a year Outreach puts on the "Day of Hope." We spend months preparing for this event.
Countywide, we provide food, haircuts, showers, clothes, blankets, toiletries, backpacks, and many other necessities to the homeless and jobless. It is an all-day event and we serve more than 1,000 people.
One other thing that I think is very important that comes from volunteering is networking...
Tweet