Tweet at Your Own Risk
Employers Facebook too
Some employers will try to find candidates on social media before hiring them. If someone's profile has inappropriate or illegal content on it, the decision to not hire that person becomes pretty easy.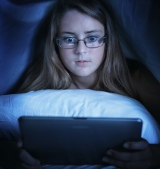 Some information should stay offline.


Even if your settings are private, it's best to have a work-appropriate profile in case you become friends with a co-worker or boss later on during your employment.
A good rule of thumb is to ask yourself if you'd be okay with your grandma seeing a post before you publish it to your profile. Also, hold back from badmouthing your job or the people you work with.
More than just your reputation
When you post online, you also run the risk of people stealing your personal information. Posting this kind of information can pose a risk to your safety and your finances:
Photos of your driver's license, paycheck, or passport: All of these documents contain information that could be used for identity theft or to locate where you live.
Details such as your phone number, email address, home address, or even where you go to school: This information is best to share privately with friends and family. Again, this information could be used to locate you or to spam your voicemail and email inbox.
Information about your location: It's up to you whether or not you feel safe having the public know exactly where you are if you use Foursquare or another similar check-in platform. In general it's not a very good idea to post online that nobody is at your house.
Looking ahead
Even though social media accounts run some risks, they still provide a fun and meaningful way to stay connected with your friends. Knowing the kinds of information you should and shouldn't post will help you live a life with no social media regrets.
Think about it—10 years down the road you would much rather look back on photos of you having a good time with your friends, rather than an inappropriate picture that you wish you had never posted.
Photos courtesy of iStock

True or False: Franklin included "creativity" and "forthrightness" among his famous 13 virtues for good character Click Ben's head for the answer.
FALSE: Franklin's 13 virtues were temperance, silence, order, resolution, frugality, industry, sincerity, justice, moderation, cleanliness, tranquility, chastity, and humility.
Tweet