Work with Gators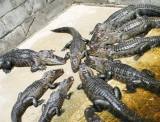 How much can I make studying herpetology?


Herpetologist Career
So, you are still interested, right? Not too scared? So what is in your future? Here are some things to consider for this and any other career you are considering!
How much will you make?
As a herpetologist, your annual salary can range from pretty low, around $12,000, to a high of around $80,000 for the most experienced and educated.
The federal government's Occupational Outlook Handbook contains a lot of useful information for people interested in a profession in the biological sciences. For example, this handbook states that median annual earnings of zoologists and wildlife biologists were $57,710 in 2012.
Projected employment through 2022 is slower than for the average occupations, providing limited job opportunities within this career. However, the handbook states that "more zoologists and wildlife biologists will be needed to study the impact of population growth and development on wildlife and their habitats."
Where will you have to live?
Another thing to consider is the cost of living where your career is located. For Shawn, living on the Gulf Coast is cheaper than living in most big cities.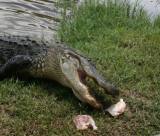 Where can I find out more?


For a trainer like Shawn, this job is his career. He has a biology degree and has worked in this field for a long time.
What are the benefits?
As dangerous as his job is, it's interesting that Shawn doesn't get very many benefits. He is not covered under any group health insurance policy. That's partly because he has chosen to work for a small business.
If he worked for a university, museum or zoo, he would almost certainly be covered under their group policy. Other important benefits like retirement plans, sick days, and vacation time will depend on the employer.

True or False: Franklin didn't want the motto 'E pluribus unum' to appear on the Great Seal of the United States of America. Click Ben's head for the answer.
FALSE: Franklin's committee suggested 'E pluribus unum,' which means 'out of many, one.' It refers to the thirteen colonies, united into one nation.
Tweet