Don't Wait--Get Into Extracurriculars!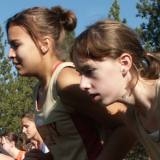 I may be busy, but the skills I learned were worth it all!


I do a lot of extracurricular activities—too much, according to my friends! I participate in debate, marching band, orchestra, jazz band, Honor Society, Knowledge Bowl, and Girl Scouts.
I used to run cross country, but it conflicted too much with
marching band
, so I had to quit after my junior year, but I sure do love all of my activities!
There are tons of benefits to all my extracurriculars. Getting involved in your school or other organizations can:
Get you scholarships and job interviews
Augment your grades
Diana Grafford, a professor of psychology at Missouri Western State University, St. Joseph, conducted a study that shows that being involved in sports or clubs improves your self-esteem, and your grades.

One reason why being involved makes your grades better is that you learn skills that help you in your classes.

For example, if you play an instrument or sing in the choir, you are generally better at math because performing music uses both the left and right side of your brain at the same time.

Also, learning music is a long process, so it also makes you better at completing tasks that take a long time to finish, therefore teaching you perseverance. Your teachers won't be the only ones loving your involvement, though. Colleges and scholarship committees love extracurricular activities, too. According to the College Board, colleges care not just about how many activities you do, but the kinds of things you do.
They look at "how you've made a meaningful contribution to something, what your nonacademic interests are, whether you can maintain a long-term commitment, whether you can manage your time and priorities, [and] what diversity you'd bring to the student body."
So basically, being involved in activities that are meaningful can give you a better chance at getting into the college you want and getting scholarships that will help you pay for college. Also, being in
leadership
positions makes your résumé even stronger.
Having a solid résumé is really important for scholarships as well. Since college is so expensive these days, winning scholarships is becoming increasingly competitive, so you want to stand out as much as you can.
Doing extracurricular activities also raises your self-esteem...
Tweet