Coconuts Anyone?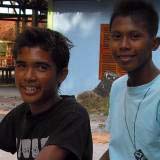 Knock off time means catch a ride.


Knock it off
Climbing trees and de-husking coconuts may be fun, but doing it all day is tiring.
That is why Romi's favorite part of the day is when he knocks off work.
Romi jumps onto the back of a friend's scooter for a ride back to his village.
It takes about five minutes for him to reach his village,
Galang Batang
. His friends in the neighborhood come by for a game of
soccer
. He usually plays soccer for about an hour, and then it is time for him to think about dinner.
For Romi, dinner usually means a good home-cooked meal. Romi's mother, who works in a tourist resort on the island, is a great cook.
But that doesn't mean that Romi leaves it all to her. He and a few friends wade out to sea to
gather some shellfish
to bring home.
Home sweet home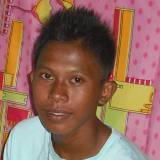 Click to see Romi and his mom.


Home for Romi is a brick and mortar house amidst rubber trees.
Romi is lucky. Unlike most of his friends, who have to share a room with their siblings, Romi gets a room all to himself.
He is an only child.
"It is great. I get to post pictures of my favorite movie stars on the wall, play my guitar and even study without being disturbed," he says.
Like most other children in other countries like the United States of America, Romi spends a lot of time studying. His parents pay 400,000 Rupiah, or $37.70 US, a month for his school fees.
At school, a 20-minute drive away, he attends English,
Bahasa Indonesia
, History and Religious lessons. His favorite subject: Mathematics.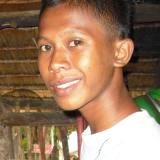 Romi knows what's cooking.

Put the kettle on
After putting the shellfish in the kitchen, Romi starts to help his mother to cook. The first thing he needs? Clean water.
Most households in the United States have clean water readily available on tap. It's not like this in Romi's house.
Here, there is no running water. Romi has to
draw water
from a well at the back of the house.
The water from this well is used for bathing. When boiled, it will also be safe for drinking and cooking.
When it comes to preparing meals, Romi's glad to help.
His favorite kind of food? The local fare of course!
Nasi Padang
is chicken curry with a unique Padang flavor and style of eating.
"You eat a bit of everything. It's the best!" says Romi, smiling.

True or False: Benjamin Franklin was also known as Polly Baker, Silence Dogood, Busy Body, and Alice Addertongue. Click Ben's head for the answer.
TRUE: All of these were pen names that Franklin assumed at one time.
Tweet