Profile of a Credit Union Pioneer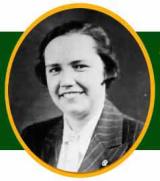 Check out this timeline of credit union history.


You might imagine that the early pioneers of the credit union movement were a bunch of middle-aged guys in business suits. Far from it. Early activists included men and women of all backgrounds—and all ages.
One of the youngest among them was Louise McCarren Herring, who was only 23 years old when she started organizing credit unions.
Fresh out of the University of Cincinnati with a business degree, Herring landed her first job in the corporate office of Kroger Company, a large Cincinnati-based grocery store chain.
While working at Kroger, Herring saw what debt did to people.
She became infuriated at what was known as the "Bucket Shop"—a loan operation that charged outrageously high interest rates. People who couldn't get the loans they needed from banks would turn to the Bucket Shop out of desperation.
This was in the early 1930s—and desperation was rampant. People who borrowed from the Bucket Shop ended up in such deep debt holes, they could never dig out.
Beating the debtors


Bucket borrowing was an outrageous way to obtain a loan.


Herring heard about a Boston man named Edward Filene, who was crusading to launch a new type of financial institution, called a credit union. Set up as a cooperative, it's owned by the people who deposit their money there. People pool their resources and then loan money to each other.
Herring set up 13 credit unions to serve Kroger employees. Why so many credit unions for one company? In those days credit unions kept memberships small, so volunteers could handle the work involved in running the operation.
Credit unions began to take hold in a big way across the U.S. after that. Movement leaders decided it was time to establish a nationwide umbrella organization. They called a meeting for August 1934 in Estes Park, Colorado.
One of the key meeting organizers, a New Hampshire lawyer named Roy Bergengren, asked credit union organizations to each send a delegate to the meeting. The Kroger Company sent Louise Herring.
Bergengren was "insulted (that) the Kroger Company would send a young brat to such an important meeting."
—Herring



"That college kid"
Delegates from the eastern states gathered in Chicago, where they all boarded a train to travel together to Colorado. During the journey, Bergengren had his staff account for the delegates aboard. They could find all—except one.
Bergengren's secretary reported she'd been through all the train cars and had been unable to find Herring. She'd asked everyone, she said, except "that college kid sitting over there."
Herring, sitting within earshot of this conversation, informed them she was the person they were trying to find. "I don't think I have ever seen a man so mad," she wrote in a letter years later, remembering the day she met Bergengren. "He was insulted (that) the Kroger Company would send a young brat to such an important meeting."
But Herring soon proved her worth to everyone, including Bergengren. In fact, she ended up serving as secretary for the Estes Park conference, which went on to create the organization now known as the Credit Union National Association (CUNA), the trade association for all U.S. credit unions.
Back in Ohio, Herring helped create the Ohio Credit Union League, which selected her to represent Ohio on the new CUNA board. That was only the beginning...
Tweet