Credit Unions Are Different!
From the outside, a credit union might look just like a bank. It's where you go to do things like:
Real story: Credit union gives a single father of three the financial help he needs.


Open a checking account.
Apply for a credit card.
Use the ATM.
Get a car loan.
But if you look closer, you'll see that a credit union is a special kind of financial institution. It's not like a bank.
What's the key factor that sets credit unions apart from banks?
You are an owner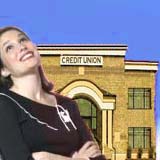 I own my credit union!


When you join a credit union, you're also a part owner, not just a customer like in a bank. That's because credit unions are cooperatives.
Members elect fellow members to serve on the board of directors, which sets credit union policies.
Banks aren't cooperatives. They have to earn a profit for their owners, the stockholders.
Since credit unions are not-for-profit businesses, and their board members are almost entirely unpaid volunteers, they have a lower cost of doing business. They are also exempt from certain types of taxes.
You benefit in many ways:
Higher dividends. Your credit union passes the savings on to y




Credit unions rate highest in consumer satisfaction.
ou by paying you a higher dividend on checking and savings accounts. Even a small savings account will earn dividends at a credit union. Credit unions also charge you a lower interest rate on loans.

Lower fees. Banks charge whatever fees they think the market will bear, so they can make as much profit as they can. Many people are looking for an alternative. Credit unions have no or low ATM fees, lower service charges on checking accounts, and lower fees for overdrawn checks.

Extra attention. Credit unions watch out for their members and often share ideas on how to manage money. It's people helping people.
They'll even come to your school
Many credit union employees visit schools and teach students how to budget and save money.
In addition, credit union branches are located inside about 700 schools across the US. All of them are student-run to some degree. Check out this one online!
You can save money at your credit union. It's the best place for your money to grow, and you may even be able to help manage a credit union inside your school!

True or False: Because of terrorist activities, in 2006, the United States of America didn't celebrate Franklin's 300th birthday. Click Ben's head for the answer.
FALSE: Congress established a commission to recommend activities to celebrate Franklin's 300th birthday in 2006, calling him "one of the most extraordinary men of the generation that founded the United States."
Tweet