Seven Ways to Save on Car Insurance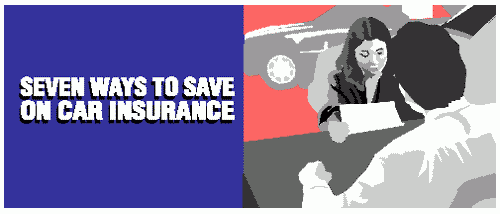 Part VII of a series about selecting and financing your first car
Why are your insurance premiums so high? Because, statistically speaking, teenagers are involved in and cause more accidents per capita than older drivers. Consider the following:
More than 5,000 teenagers die in motor vehicle crashes a year--about 14 teenagers every day.



Twenty percent of all passengers who die in crashes do so when a teenager is driving.



Thirty-seven percent of 16-year-old drivers who died in fatal crashes were speeding or going too fast for conditions.



Motor vehicle accidents are the leading cause of death for people between the ages of 15 to 24 years.



Automobile insurance protects you against loss caused by theft, vandalism, or accident. Insurance covers the costs of bodily injury and property damage. For every $100 paid in premiums, $75 is paid out in claims. Premium considerations include claims costs, driver age and experience, type of vehicle, urban or rural location, and other factors.
While you can't control other drivers your age, there are things you can do to lower your insurance premiums.
Proven ways to lower premiums
1. Good student discount--Most insurers discount premiums for students who maintain a "B" (or higher) grade point average. The reason is that a conscientious student is more likely to be a conscientious driver.
| | | |
| --- | --- | --- |
| 2. Low mileage discount--Obviously, drivers who drive fewer miles have less opportunity for collisions. Most insurers have a set number of miles that qualify for a discount, usually 5,000 to 7,500 miles per year. | | To see where your auto insurance premium dollars go, check the Insurance Information Institute's Web site. |
3. Safety features--If your vehicle has anti-theft devices, anti-lock brakes, air bags, and automatic seat belts, you also may qualify for a discount.
4. Increase the deductible--The deductible is the maximum damage cost you agree to pay before your insurance coverage kicks in. Increasing it from $200 to $500 will reduce your premiums, but will also increase your share of responsibility for each accident. For example, say your deductible is $250 and you're involved in a fender-bender accident. The cost to repair your car is $1,000. You file a claim and the insurance company pays $750 and you're responsible for $250.
5. Drive a "low profile" car--Cars that cost more, are expensive to repair, or are favorite targets for thieves have higher premiums. Your insurance agent can tell you what the insurance premiums will be before you buy the vehicle. Ask! Is YOUR car a target? Find out by reading this list of the top five most stolen vehicles.

6. Drive safely--Not only will you avoid adding to the poor driving statistics for teenagers, you'll also protect yourself, your passengers, and your vehicle. Tickets for traffic violations--speeding for example--and a history of accidents will definitely result in higher premiums.
7. Thwart thieves--Don't contribute to the number of stolen vehicles--1.4 million every year. Always remove your key and lock your car, even if you're away for just a few minutes. Activate all anti-theft devices. Whenever possible, park in a locked garage, patrolled parking area, or, well-lit area. Stow packages, shopping bags, and other valuables out of sight in the trunk or under the seats to remove an enticement to thieves.


True or False: Franklin was allowed to mail letters without charge. Click Ben's head for the answer.
TRUE: As postmaster, Franklin could mail letters free of charge. To show his commitment to gaining independence from the British, he signed his signature "B. Free Franklin."
Tweet