Entering the World of Credit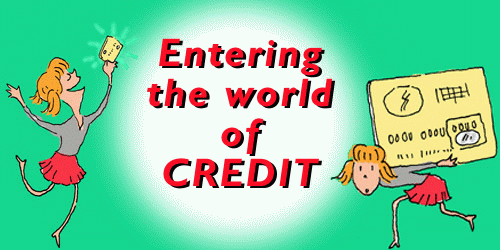 Milestone #1: You're ready for your first credit card. You've completed and mailed the application, and you're waiting for approval. How does someone who has never met you decide whether or not to approve your application?
Milestone: #2: You're buying your first car and apply online for a credit union loan. What resources does the loan officer use to approve or deny your request for credit?
The first thing lenders look at is your credit report. Here's how it works and how you can make sure you have one that enables you to borrow.
What's a credit report?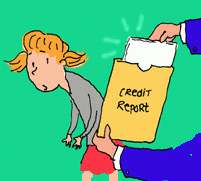 It's a record of your credit history that lists your loans and other forms of credit, your creditors, and your payment history. Like your reputation, your credit report tells a lot about you. If it shows a bad credit rating, you'll find it harder and more costly to get credit. And if your credit rating is good, it'll work to your advantage when you want to borrow.
Like any reputation, a good credit rating takes a long time to build but a short time to destroy. Your actions are important because credit information stays in your report for up to seven years. And if you ever declare bankruptcy, that remains on your record for ten years.
What's in a credit report?
Nationally, three credit bureaus-- Equifax, Experian, and Trans Union Corporation--gather credit information and formulate reports.
A credit report is
like a report card
on how responsibly
you repay money
you've borrowed.
Your report includes your name, address, social security number, date of birth, and present or most recent employer. Each bureau calculates an overall score for you that basically tells lenders how well you've managed your debt payments.
Next come the details. The report lists all your credit cards and loans, which lender or card company granted them, the amounts you owe, and your payment amounts. A coded scale ranging from pays on time to payment over 120 days late shows how you handle your debt responsibilities.
You won't know that your late payments have hit your credit report-until it's too late. They might include late payments for rent, auto insurance, telephone or utility bills, student loans, or credit card overcharges. Your creditors will notify you that you're late, but they may report it to the credit bureaus, too. That can hurt. Read this sidebar to find out how.
Last, the bureaus list all the companies that have asked for your report. If there's a long list, it may be an indication that you're having trouble getting a loan, which turns off most lenders. And if no one has removed cancelled credit cards from the list, you could appear to be further extended than you really are.
How do I shape my credit report?
As a first-time borrower, you won't have much of a credit history. However, there are ways to start proving your creditworthiness:
Create a steady work record at a job, even if it's part-time employment.



Open checking and savings accounts in your name, and manage them well. Never overdraw your account.



Always pay your bills by the due date.

Enter the world of credit cautiously. Apply for a low-limit credit card to test your ability to handle debt. If you immediately charge to the max and pay minimum monthly payments, you're in high gear on the expressway to credit agony. Use the Googolplex Minimum Payment Calculator to see how a poorly managed credit card can lead to years of payments.
If you really feel the need to establish a credit record, use your savings as collateral for a small, low-interest loan that you repay promptly.
Do credit bureaus ever make mistakes? Sure, and it's a good idea to look at your report annually, or at least every couple of years.
Credit is like a puppy to get--and a bear to repair.
Your good reputation and credit report will be among the most important assets of your adult life. Are you up to the challenge?
To prevent mistakes, there are things you can do to ensure an accurate credit report. Click here for a list.


True or False: Benjamin Franklin was the first scientist to realize the importance of fresh air in curing disease and helping general health. Click Ben's head for the answer.
TRUE: Franklin realized this and had hospitals lower windows to increase ventilation in hospital rooms.
Tweet