Checking into Checking Accounts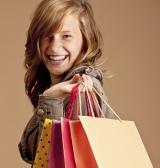 You're a savvy shopper.


You're a good saver and a savvy shopper. You have a regular part-time job and the paychecks that come with it.
You have a savings account, but that isn't quite doing it for you. Your financial needs are increasing.
With your parents' help you might be ready for a checking—or share draft—account.
It's convenient
It's more complicated than a savings account, and you probably won't earn interest on your savings. But check out the conveniences:
You can carry less cash yet still buy what you need at most local stores.
You can pay larger bills by mail.
You have a spending record so you can analyze where your money goes.
Your paycheck can be deposited directly into your account.
You always know how much money you have left.
Not entirely free
A checking/share draft account carries responsibilities. You might have to pay a monthly account fee unless you maintain a certain account balance.
Other responsibilities include:
You have to pay for your checks, and the fancy ones will cost more.
A checking account carries responsibilities.

You'll want to balance your account immediately after purchases, and monthly when your statement arrives.
If you overdraw your account, the fees could be sizeable—the average fee is about $25. And usually, the credit union isn't the only place that will charge you. The company you purchased from can hit you with a fee ranging from $25 to $55 for a returned check.
If you lose your checkbook and fail to notify the financial institution, you could lose all the funds in your account plus be held responsible for overdrafts.
If you have an ATM or debit card, managing your account gets more complicated—you have to remember to track your card use in your register the same way you track your checks.
There may be additional fees when you add an ATM or debit card, and if you lose your card and fail to notify within a certain timeframe, you could be responsible for sizeable losses.
For your first checking account, you'll probably want an economy account...
Tweet