Are You Loan Ready?
How do you get your loan approved?
Your credit union will approve your loan based on what is commonly known as the four "Cs" of credit. They are:
Character—your willingness to repay. Determined from your reputation and your credit history: Do you pay your bills on time? Have you used credit before?

Capacity—your ability to repay. Determined by looking at your employment and debt history. Do you have a job? Do you have other debts?

Collateral—what you'll give up if you don't repay the loan. Based on something of value you agree to forfeit if you default on your loan. It can be a car, a savings account, or a certificate of deposit (CD).

Capital—Your assets, or valuable items you own free and clear. What are you worth? Do you have other assets, such as a savings account, car, or CD that could be used to repay the debt?
The bottom line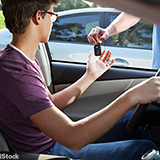 Consider financing your car with an auto loan.


For your first loan, learn as much as you can about what kinds of loans are available to you. The most popular loans for high-school students are student loans for college, and smaller loans for cars. Your credit union's web site can be a great resource for loan information.
Call your credit union and make an appointment to talk with a loan officer. For a first loan, face-to-face is the best way to go about getting the money you want or need.
When you borrow money, do it with the intent to repay the loan in a prompt and punctual manner. Borrowing money is a privilege, not a right.
Once you earn that right, protect it by protecting your credit rating. Your credit history and a good credit report give you the ability to borrow in the future.

True or False: Free Franklin Post Office resides in a jail cell once occupied by Franklin. Click Ben's head for the answer.
FALSE: In 1975 the United States Postal Service opened the B. Free Franklin Post Office and Museum in a Philadelphia house once owned by Franklin.
Tweet