My Credit Union Experience
Hi. My name is Travis. I'm eleven years old and I'm in the sixth grade at Frost Elementary School in Michigan.
I'm the branch manager of the Frost Student Branch of CP Federal Credit Union at my school. That means I run the credit union's office in my school.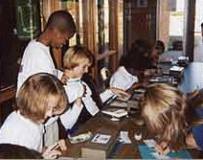 "I like building working relationships with my fellow students."
—Travis (standing)
Here's my job
I start my duties by leading our members from their classes to the credit union, one class at a time.
Most of the time, about five students come from each class. In one week, about 57 members deposit money in, or withdraw money from their savings accounts.
When I get the members to the credit union, I make sure that all of the workers (tellers, bookkeepers, and computer operators) are on task. We're there to help students fill out their savings ledgers, if they need it.
A total of 36 students are my co-workers. They're volunteer employees of our credit union. Sometimes they need help too.
For example, I help the tellers recount their money if they don't have the amount the bookkeeper says they should have.
In addition to helping our members deposit and withdraw money, and helping my co-workers count their money, I think of ways to promote the credit union:
Contests;

Posters;

Bulletin boards;

Announcements.
I write those announcements, which are broadcast over the school PA (public address) system so that all the students know about our credit union.
Another job I do is manage the supplies—pens, highlighters, staplers, etc.—to make sure that we have everything we need to operate the credit union.
We currently have 834 members, which is a little more than 26% of all students, and the average savings account balance is $245.
Keep reading to learn why I love working as a branch manager...
Tweet