Find the Best Car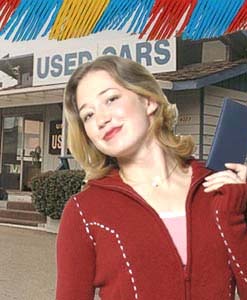 Forbe's 10 cars that changed the world.


You're buying your first vehicle. What's the right car for you? The answer depends on whom you ask!
Ask your parents
As a first car, parents usually want teenagers to own "middle-of-the-road" vehicles. They look at middle price range, middle performance, and mid-size.
The reasons are obvious. A mid-sized car:
Will be your best bet in terms of maintenance and insurance costs;
Limits the number of passengers who can distract an inexperienced driver;
Offers more protection than a compact if you get into an accident.
Parents believe that a high-performance car is too much, too soon for most new drivers.
Ask your insurer
According to the nation's leading auto insurer, you'll get the best
premium
rates by choosing a vehicle with the:
Fewest bells and whistles;
Lowest price tag;
Most dependability.
Sounds like your parents, right? But, as one agent pointed out, "if there's not a lot to go wrong with the car, it's cheaper to insure."
The type of vehicle also makes a difference. Most teenagers will start out with a used car. Auto Guide lists the top 10 cheapest vehicles to insure for teens. Here are the top seven:
2008 Audi A3: $1,960
2008 Honda Accord Sedan: $2,040
2008 Mercury Sable: $2,610
2008 Ford Taurus: $2,670
2008 Subaru Forester: $2,750
2009 Mercury Milan: $2,790
2008 Scion xB: $2,790
Not interested in any of those? Here's a good rule of thumb you can use: any vehicle with an original sticker price of $16,000 to $22,000 would be a safe bet on lower insurance premiums.
Tweet