Why Auto Insurance is a Must-Have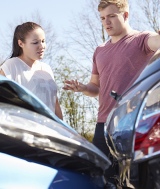 Whose gonna pay?


How to buy auto insurance
Ask your parents to add you to their insurance policy. It's the cheapest way to get auto insurance, even if they make you pay them for your portion of the bill.
If this isn't possible or desirable, at least consider their company for the multiple-vehicle discount.
And shop around. The Insurance Information Institute provides a lot of helpful information on shopping for insurance, including a glossary.
Insurance jargon
Here are just a few of the terms you will encounter:
Liability—This pays for losses you cause others while driving, and for your legal defense fees. Your state may set minimum liability amounts. Some states require all drivers to carry liability insurance.
Typical liability is $100,000 coverage for injury to one person and $300,000 per accident.
Don't let these numbers alarm you. Insurance companies don't increase your premiums at anywhere near the rate coverage increases.
Personal injury protection—This pays you or the people in your car for medical treatment due to accident injury. Besides hospital and doctor costs, this might include physical therapy, lost wages, childcare services if a parent is disabled, and funeral expenses.
Comprehensive—This pays for non-collision property loss, such as damages to your car caused by theft, storm, or vandalism. For example, this coverage would apply if someone breaks your window and steals your cellphone, or if your car is dented during a hailstorm.
Uninsured motorist—This pays for injury to you and your passengers caused by a driver who has no insurance. It also pays for injury to you and your passengers by a hit-and-run driver.
Underinsured motorist—This makes up the difference between the policy limits of another driver who caused the accident and your actual losses. Of course it is only up to your coverage limits.
Auto insurance may not be glamorous, but it is a crucial element to responsible, mature driving. Part 5 in this series, New Drivers: Start Your Engines!, will help you manage the cost of keeping your car running.
Read the rest of the stories in this series!
Photos courtesy of iStock

True or False: Because of his opposition to using the eagle as a symbol for the United States of America, Franklin's portrait has never appeared on any coin that also portrays an eagle. Click Ben's head for the answer.
FALSE: From 1948 to 1963, Benjamin Franklin's likeness appeared in the American half dollar. On the reverse -- as mandated by Congress -- was the eagle.
Tweet