Could You Have an Art Career?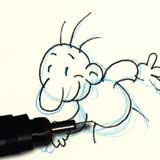 You can be an artist too!


Rick and Rhonda Nass live in the country and they work where they live. But they're not farmers—they're artists, so they create artwork in exchange for money.
Rick and Rhonda both use paint and paper to create artwork, filling requests for many clients. But even though they both paint for a living, the art they produce is very different. Rick makes cartoons. His silly imagination is very important to his work!
Rhonda, on the other hand, draws the world exactly as she sees it. She draws pictures that help students learn about plants, bugs, birds, and animals. Rhonda has to know a lot about nature.
Rick and Rhonda have a friend named Renee Graeff. Renee illustrates children's books. She draws pictures of children playing, learning, and discovering the world.
The stories she draws take place in the past, so Renee has to know a lot about history. If she put the wrong toys for the time period in her pictures, her work would be turned down!
You may have seen Renee's lovely drawings. She illustrated the Kirsten books for The Pleasant Company's American Girls series. She also illustrated the "My First Little House" series published by Harper Collins.
Art: One Small Word, So Many Careers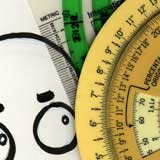 Learn the basic principles of design.


Rick, Rhonda, and Renee have jobs that allow them to use their artistic talents to create works on paper. People like Rick, Rhonda, and Renee have to be able to draw and paint well, or they couldn't do what they do. There are many more careers for people with solid artistic skill. Would you like to paint murals? Draw comic books? You could, if you love drawing and painting and practice until you do them well.
There are other careers that require artistic talent, but you don't have to love drawing or painting to do them. These are sometimes called "Design" careers. Would you like to design clothes? Animate cartoons? Design special effects for movies? Would you like to make a magazine page, or take photographs? These are all art careers that don't require skill at drawing or painting.
Applied art careers all have one thing in common. When you work in the applied arts, you use the
elements and principles of design
to give something a specific look. That "something" could be a dress, a movie, or a magazine page.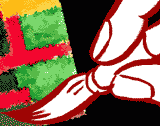 What do artists study?


What Do Artists Study?
Some young people choose an art career for the wrong reason. They think being good at art is a natural talent, and that someone with that talent can make a living without having to study. That's not true! Subjects like math, social studies, and science are very important to artists.
Math. Every art career uses basic math. Every commercial artist has to estimate costs so he knows what to charge for his work. Geometry is a useful subject for artists, since it is all about shapes. Architects are artists who use a lot of math.


Science. Some artists, like Rhonda, have to know a lot about science because of the subjects they draw. Being a science illustrator is a great choice if you are good at science and at art and can't decide which you'd rather do! But other artists need to know some science too. For example, studying chemistry helps you mix paints to get exactly the color you want.


Social Studies. Artists like Renee need to know how people live now and how they lived in the past. Her knowledge of social studies makes her work correct and interesting. When you study history and culture, you add to your stock of ideas. As an artist you draw on this stock to make your artwork.
Making a Living with Art
Are you curious? Always getting interested in new topics? Do you doodle or sketch? Do you dream about other places and other times? Do you like getting messy? If so, a career in art is a great choice for a person like you.
A few talented people make a living just by making works of art they like, then selling them to people or galleries who like them too. But many talented people make their livings as commercial artists. If you choose an art or design career, you'll keep learning as long as you keep working. That's a great way to make a living!

True or False: Franklin appears on more postage stamps than anyone else. Click Ben's head for the answer.
FALSE: Only George Washington appears on more postage stamps than Benjamin Franklin.
Tweet