Land Your First Internship
Perfect your résumé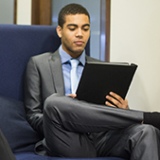 Your résumé is your ticket to an interview.


Once you find a place that you'd like to intern at, do your research on the company. Your knowledge about the position and the company will impress an employer both on your cover letter and in an interview.
Before you even start thinking about an interview, perfect your
cover letter and résumé
.
It's important to tailor your résumé for each internship you apply for. Read each job description carefully to understand the skills and experience the hiring committee is looking for.
Ace your interview!

It's easy to get nervous for a big interview. One way to stay calm, cool, and collected is to prepare yourself prior to the interview:
Research possible questions. Look up common interview questions, such as "What's your biggest weakness?" Ask a friend or family member to help you run through possible answers.
Dress professionally. It's always better to be overdressed than underdressed during an interview.
Give yourself plenty of time to get there. A late arrival to the interview definitely won't help your nerves—plus getting there early will show that you are organized and punctual.
And once you get to the interview, keep these things in mind:
Collect your thoughts before answering each question. Even if your response is slightly delayed, a well-thought-out answer will reflect better on you than blurting out the first thing that pops into your head.
End on a good note. Ask at least one question at the end of the interview to show your interest. Make sure to thank your interviewers and send them a thank-you note after the interview.
Even if you don't get your dream internship, the experience of applying to internships will be valuable to you down the road as you look for full-time positions.

True or False: Benjamin Franklin was an avid butcher and enjoyed spoiling himself with the finest meats that money could buy. Click Ben's head for the answer.
FALSE. Franklin briefly became a vegetarian because so he could save money.
Tweet