Be Your Own Boss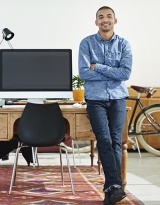 I'm making my own money.


Minding your own business might not be as hard as you think!
I've loved computers and technology since I was young. When I was a sophomore in high school, I took a Web design class and discovered I loved designing websites.
My experience
The summer between sophomore and senior year, I designed a website for a family member for a small fee.
A couple of months later, I designed a website for a friend of a friend who paid me five times what I made working at the local grocery store. It was then I realized that running my own Web design business in my free time wouldn't be that hard.
Since then, I won $500 through a DECA high school competition, got a job as a member of a Web focus group, and later became a part-time Web consultant. Now, I'm designing another website. Last year, I made around $2,000 from my business!
Why you have an edge
You might not know it, but you have major advantages over many adults when starting a business. Here's what you've got going for you:
Boldness: Teenagers often are more willing to take risks than adults. Perhaps it's only inexperience, but we often focus on benefits instead of possible problems.
Financial support: Most teenagers don't have to pay their own living expenses. This means the money you do have can go to starting your own business.
Emotional support: Family members or friends might help find customers, or might refer you to other advisers
Publicity: The general public and media also can help you. In many situations, teenagers are recognized more than adults are for the same accomplishments. Publicity is free advertising and can bring you a lot of business.
Read on for how to get started...
Tweet