Students Visit This Credit Union For Lunch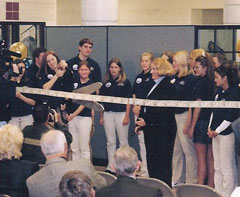 My marketing class had a large part in the planning for the school credit union's grand opening.


Opening day jitters
Our branch opened in October 2002. My marketing class helped plan the grand opening. We got our fellow students and teachers inside with some creative and inviting promotions
At first it was a struggle to get students to come into the branch. Teachers and staff were worried about student tellers knowing how much money they had in their accounts.
Our class devised a promotional flier for the teachers. It included the name and photo of the CFCU employee who supervises the branch and a list of all 53 student tellers. It explained that the student tellers understood the importance of confidentiality. It explained that they could ask the CFCU employee to handle their transactions.
The flier prompted teachers to ask any student teller about the credit union. As a result, the teachers felt comfortable before even stepping inside the door
We have challenged ourselves to bring in new members with each promotion. For example, we give the students or teachers food or a prize to open an account. Each promotion varies, but we normally get around 5 to 10 new accounts each time.
Financial transactions while you eat
Our school credit union is open during the three lunch periods. During this time, most teachers either have lunch or a prep period. Therefore everyone has a chance to use the credit union.
This is very convenient for students who are CFCU members. For example, if they forget their lunch money all they would have to stop into the branch and withdraw money from their accounts!
They can do more than withdraw...
Tweet