Teenage Life in Blue Creek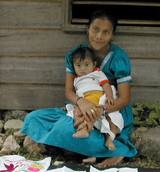 Petrona, age 19, usually spends afternoons on chores.


Petrona won't be going to the creek to wash clothes this afternoon.
The nineteen-year-old usually spends afternoons on chores, her three children in tow. She is always busy doing laundry, gathering firewood, and making corn into tortillas. Not today!
Today there are visitors at the guesthouse, where the women in Blue Creek Village are selling their handmade baskets, embroidery, and beadwork.
Petrona's sister Salome won't be going back to school this afternoon, either. The 13-year-old will go with her mother and sisters to vend their beautiful crafts.
The women of Blue Creek earn spending money by selling crafts at the guesthouse market. A guesthouse market is an important event in the village!
They live the Mayan way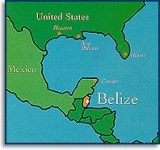 Petrona and Salome were born in southern Belize.


Petrona and Salome Chiac are Mayan Indians, born into the Kek'chi tribe in southern Belize. Salome lives with her father and mother; and half-dozen brothers and sisters in a two-room house under a thatched roof, without running water. Petrona lives next door with her young family.
The Chiac family compound is one of several dozen clusters of homes that make up Blue Creek Village, population 231.
The village lies at the foothills of the Maya Mountains, where fertile farmland gives way to rainforest jungle.
Salome likes school—she's good at math and at English. She could, with encouragement from her family, go on to high school in Punta Gorda, thirty miles east on the seacoast. But few young people from this village go to high school.
One brother from the Chiac family is away at school right now. Two girls from Blue Creek Village are there too. The village is eager for them to finish school and come home, bringing their new skills with them.
The villagers talk a lot about parties for the returning students. Salome and Petrona are saving the money they earn selling their crafts to help pay for a party for their brother.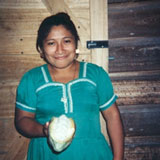 Click here to meet Serafhina.


Many will marry
Petrona's sister Salome will graduate the eighth grade next year. That will likely be the end of her schooling. If she decides not to go to high school, she may follow in Petrona's footsteps, marry at age 16 and live the traditional Mayan way, spending her days caring for her husband and her growing family.
Salome might follow the example of her neighbor, Serafhina Ack, who at 21 is still enjoying dating and working various jobs around the village.
Tweet