Choose the Right Career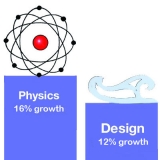 Jobs in art and design are expected to grow at an average rate.


One of the biggest questions all students have to face is what to do after graduating from college. Job growth is stagnant, giving students reason to make career plans carefully—considering both the immediate need to earn money, and the long-term outlook.
The U.S. Department of Labor's Bureau of Labor Statistics (BLS) says that the main factor in job growth is population. By 2018, the U.S. civilian noninstitutional population is expected to grow by 25 million from 235 million to 260 million.That is a 10.7% growth!
Job openings stem from both growth in employment and the need to replace workers who retire or leave jobs for other reasons. The BLS projects that total employment will increase 10% between 2008 and 2018, adding 15.3 million jobs to the economy. As you look at your career interests, keep in mind that certain careers and jobs have better prospects in the near future.
Professional and service jobs have the best outlook


How well do these jobs pay?


The Bureau of Labor Statistics regularly projects the future of most careers. For example, it estimates that careers in the art and design industry will grow 12% between 2008 and 2018, about average.
If you want to be an environmental scientist, expect job growth to be more significant—about 28%. On the other hand, physicists and astronomers can expect to see only a little more than average growth—about 16%.
The Department of Labor's Bureau of Labor Statistics uses information from surveys and industry experts to calculate these projections.
Experts agree that the jobs that will increase in number the most, about 17%, are in professional and related fields. About 14% of jobs created by 2018 will be in the service industry. Service jobs provide some kind of care or assistance to people.
This table shows the Labor Department's top 10 fastest growing jobs in the country; most are service-related.
| Occupation | Predicted Percent Growth by 2012 |
| --- | --- |
| Biomedical engineers | 72% |
| Network and data communications analyst | 53 |
| Home health aides | 50 |
| Personal and home care aides | 46 |
| Financial examiners | 41 |
| Medical scientists, except epidemiologists | 40 |
| Physician assistants | 39 |
| Skin care specialists | 38 |
| Biochemists and biophysicists | 37 |
| Athletic trainers | 37% |
Some occupations don't have as good a prognosis for the immediate future...
Tweet