The Best Fundraiser Yet
Everyone loves baked goods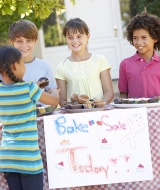 On-site advertising


Have everyone involved in your club bake one item and bring it to the sale.
Remind bakers to follow proper hygiene while cooking, and to individually wrap items in plastic wrap
You don't need to advertise these events ahead of time because most people usually have an extra fifty cents on them to buy a cookie or brownie.
Make posters to hang, informing people at the event of your bake sale and directing them to your table.
Car washes are ALWAYS fun!
A car wash is a little more difficult to plan. The most important factors of a car wash are:
Location. Ask a business in your town if you can hold it in their parking lot for half the day. Or try the parking lot at your school or church on a Saturday afternoon. Make sure your location has access to a water spigot and that you have permission to use the water.
Weather. Check the 7-day weather forecast online. It can make or break your car wash!
Labor. Ask people from your club or sport to sign up to work at the car wash
Supplies. Ask everyone who signs up to bring a few washcloths and towels that they will keep with them to wash and dry the cars.
The few expenses of a car wash include soap and advertising supplies (mainly poster board). Hang signs up around your town directing people to your car wash.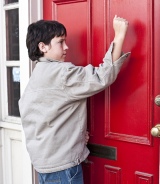 Try a door-to-door fundraiser.


Door-to-door
Now for the best way to make a big profit...
Door-to-door fundraisers are one of the best when it comes to actual profit.
They are good for both big and small organizations.
The product you choose to sell is the factor that will make-or-break this kind of fundraiser.
When choosing the product you want to sell, ask yourself two questions:
Is this something I would buy or use?
Is this something that has been sold in my area lately?
After you have chosen a product, and chosen the fundraising company you are getting it from, make sure you have enough people to carry out the fundraiser successfully.
Give the participants a minimum number of items to sell. Buy a movie or dinner certificate for the highest seller.
Success!
As you can see, there are many ways to raise money. Here are some tips to make whichever type of fundraiser you choose a success:
Brainstorm original and interesting fundraising ideas.
Ask businesses in your community to sponsor you.
Organize! Secure enough people to run it. Get enough supplies. Obtain permission to use an auditorium, school cafeteria, or parking lot if you need to.
Advertise! Let your community know the date, time, and location of your fundraiser.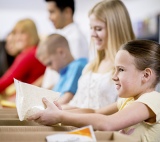 Assembly-line wraps!


Fundraising can help your organization make thousands of dollars.
That much money can help keep a club up and running.
I'll bet you have some creative ideas to make fundraising fun.
Scroll down and Talk Back to share them!



Photos courtesy of iStock

True or False: Franklin appears on more postage stamps than anyone else. Click Ben's head for the answer.
FALSE: Only George Washington appears on more postage stamps than Benjamin Franklin.
Tweet