Work Without Selling Out
Celebrity Lessons In Achieving Your Dream Job


How do you earn money?
Some people wear a uniform, go to a store or office, and have someone else set their schedule. But not Jeff, Peter and Emma.
They set their own hours, wear what they want, and are doing what they love. Their secrets? Creating two kinds of art. Let's listen to the boys first...
Jeff and Peter make music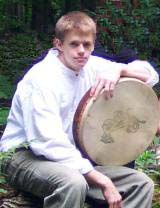 Jeff holding his bodhran.


Since early 2004, Jeff and Peter have earned money playing Irish music with their band, Rising Gael.
"My brother Eric had the idea; he had a new mandolin and he wanted to play Irish music," says Peter.
"Eric knew I did Irish dancing, so he asked me if I knew any other musicians," adds Jeff.
"I did, through dancing, so we all got together to play music. At first we didn't think of forming a band," he says.
Rising Gael's music features guitars and keyboard. Its members also play some instruments you don't usually hear about:
Sisters and brothers get in the act: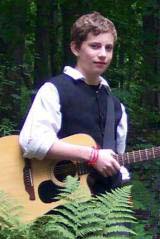 Peter plays guitar, and sings too!


Flory, Jeff's sister, plays keyboard and does step-dancing;
Eric, Peter's brother, plays mandolin.
So do friends:
Peter, Eric, and Erin are vocalists—what a sight and sound!
Going public
The band first played publicly at a St. Patrick's Day celebration in a local restaurant. "We only had a 15-minute slot, but we had so much fun that we decided to get more gigs. It grew from there," says Jeff.
Now the band has a CD, plays at restaurants around town, and is landing jobs at festivals nationwide and in Canada.
"We started sending press kits out to the festivals a few months ago, and we've already gotten several interested responses," says Jeff.
Talk about money!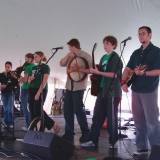 Want to start a band?


The band has made more money than Jeff's expected.
"We ordered 1,000 CDs, and we might have to do a reorder," he says.
"It's only been out about two months and we have around 200 left."
At the band's CD release party, Jeff says, "we filled the high school auditorium, and it seats 700!"
Jeff plans to earn his college money playing with Rising Gael, if possible. Meanwhile, he's having a blast...
Tweet