Plan B for College
Plan B
If your first choice doesn't work out, what can you do?
Appeal. Sometimes you can appeal a decision. If you have circumstances the school isn't aware of, such as poor grades because of a death or divorce in the family, you could make the school aware of it.
"It depends on the school—whether they'll consider something like this," says Martinelli, "and you should include the information with the original application."
Wait. Some schools have wait lists. They'll put you on the list if they think you're possibly a viable candidate, but they're going to wait to see how many accepted applicants decide to come to the university. You may have to write another essay or get another letter of recommendation.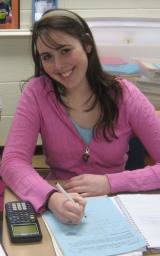 "If you're not accepted, apply to more schools. You'll get in somewhere."—Erin


Ask the admissions department how likely it is you'll get accepted while on the wait list. Don't count on it.
"That's where it's important to have applied to a school you can definitely get into, as a safety net," says Martinelli.
If you're accepted to your "safety" school, you can delay replying for a while to see what happens with your favorite college.
Just don't miss your deadlines!
Transfer. If you do end up attending your second- or third-choice school, be sure to keep your grades up. You may be able to transfer to your favorite school after your freshman year.
"It's usually easier for transfer students to get in to colleges than for incoming freshmen," says Martinelli. "The requirements aren't as stiff, and they'll look more at your college grades than at your high school record."
Carli was accepted to her first-choice school, the Carlson School of Management at the University of Minnesota in Minneapolis. "I was also accepted to my second-choice school. I'd have gone there otherwise, and probably transferred," she says.
Look for the positives

"No matter what college you go to, you'll find something to like about it."—Carli


"I didn't realize how common it is to transfer," Carli continues. "Many kids go to a community college for a year or two to get their liberal arts requirements out of the way. Then they transfer to a college that has their major. It saves a bit of money."
Erin was also accepted at her preferred school, the University of Wisconsin-Madison. "If you're not accepted, apply to more schools. You'll get in somewhere," she says. "Some smaller schools, especially private ones, accept applications until later in winter."
Many students who aren't admitted to their favorite schools end up staying at the schools they attend.
"When I talk to these students, they're content with their experiences. They establish relationships, and they find the quality of education is just as good," says Reason. "They have no reason to transfer back. It ends up working out just fine."
Carli agrees. "From what I hear, no matter what college you go to, you'll find something you like about it. It becomes the right place for you."

True or False: Benjamin Franklin was nicknamed the "Water American". Click Ben's head for the answer.
TRUE: On his first voyage to England, he drank a lot of water while his British counterparts he was traveling with drank mostly beer.
Tweet