The Middle School Musical!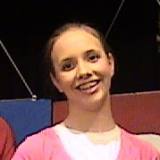 It all started when I was four
In the spring of 7th grade, I heard about the school musical, Schoolhouse Rock Live, Jr. I thought it would be fun to audition (tryout) because I love to sing, dance, and act.
I've performed before and knew it would be a good opportunity to work on overcoming my fear of performing in front of big crowds.
When I'm nervous, my stomach starts to hurt. Then my legs get numb, even to the point of falling asleep sometimes!
So before a performance, I laugh a lot to get out the anxiety and try to forget about all the people in the audience. Once the performance starts, I relax some, until it's time to do my song solos.
Speaking lines don't bother me, but just before I sing, I get a little nervous again until I'm part way into the song.
When I showed up for tryouts, I found out that a few of my friends were also trying out. That made me feel more comfortable and helped calm my nerves a little.
Before we started the tryouts, we were all making jokes just to get a little more relaxed. After a while, I wasn't nearly as nervous as I was when I first got there.
In order to decide who was going to get the six leading parts, the director and choir teacher had us sing a small verse from a song by ourselves. Next we had to act out a scene from the musical with five other people.
I felt that I did well, but you never really know what they're looking for...
Tweet