The Complain Game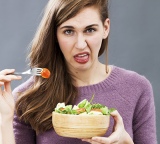 Make a smart consumer decision.


You order a steak well-done at your favorite restaurant and the server brings out a pink, undercooked piece of meat.
What do you do?
Your parents have probably told you once or twice to "quit complaining," but sometimes it makes sense to complain.
You shouldn't have to pay for products or services that don't meet the standards you were promised.
When to complain


Will a new shirt rectify the problem?


While you shouldn't be afraid to complain about bad products or services, some issues aren't worth complaining about. For example, it's easy to pick an unwanted tomato off of a burger.
If you complain about every minor issue you have as a consumer, you could damage your relationship with a company.
The employees at that company might not be as helpful to you when a serious concern comes up and you've already complained to them about small incidents that weren't their fault.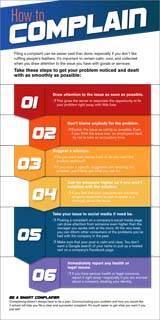 Check out the infographic.


"It's always bad to cry wolf and abuse the system," says Susan Bach, Media Coordinator for the Better Business Bureau of Wisconsin. "You want the organization to take you and your complaint seriously or they might have a reason to dismiss you."
Before you file a complaint, ask yourself these questions:
Who is at fault for the problem? If you leave milk in your hot car for a few hours, it's most likely not the grocery store's fault that your brand new gallon of milk is spoiled.
Can the problem be rectified? If the problem can't be fixed and you can't get your money back, complaining might not be helpful to you.
Is the problem one that you can live with? If you have a minor issue with a product, such as your printer being louder than you expected, you might not need to file a complaint.


Art courtesy of iStock

True or False: Ben Franklin organized the first insurance company mostly to protect houses from fire. Click Ben's head for the answer.
TRUE: In 1751, he founded the first insurance company and called it the Philadelphia Contributorship for the Insurance of Houses from Loss by Fire.
Tweet