Thaipusam: A Festival of Thanks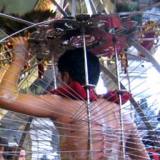 Some pilgrims carry mini-alters called 'Kavadi', attached by sharp hooks to their bodies.


Arasan grits his teeth as his uncle pierces the skin on his forehead with a large needle.
The sounds of the soothing chanting of mantras by his friends and relatives distract him from any pain he feels.
"The skin is pierced by a short skewer, and it doesn't hurt at all, only a small pinch in the beginning," says Arasan. "Everyone is chanting and I concentrate on the words and not on the pain.''
The piercing is just the beginning of a long journey that pilgrims like Arasan take once a year during the Thaipusam festival.
Today in his home country, Singapore, he and about 10,000 other pilgrims walk a route about 2.4 miles long in the hot sun. Young pilgrims like Arasan, will pierce their tongues, cheeks or foreheads and walk while balancing a jar of milk on their heads.
Others, like Arasan's uncle, pierce their backs and chests with over a hundred sharp hooks. These hooks are attached by long, thin chains to a Kavadi.
Festival day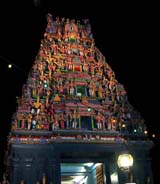 The outside of the temple is decorated with yellow twinkling lights.


The outside of the temple is decorated with yellow twinkling lights, and the ground is littered with smashed coconuts and bananas that were discarded after being offered to the Gods.
Today is an early day for Arasan. He and his family arrive at the temple two hours before the piercing ritual begins. It's 9:00 am.
Even though it's early, the temple grounds are already bustling with thousands of devotees eager to show their devotion to their Hindu gods and goddesses.
Once Arasan enters the temple he undresses, and his parents bathe him in water mixed with sacred ash.
Arasan stands amidst the smell of fresh jasmine flowers picked and threaded into garlands especially for the festival.
But the Thaipusam experience is not for free—Arasan and his family pay the participation fee each year—which is about 25 Singapore dollars (written S25) or $15.82 (written USD15.82) each.
For Hindus, this day is hectic, but preparations start way before the festival itself.
To purify themselves many of them started fasting a month ago, eating only after sunset. Others stopped eating meat a week before the festival, and some even slept on the hard floor for months to prepare themselves for today!
The pilgrimage
Today, Arasan's long walk is a pilgrimage. This is what Hindu devotees do on Thaipusam day.
During the walk, all the devotees will follow a specific route while engaging in sacrificial acts to thank the various gods for answering their prayers.
Many, like Arasan, pierce parts of their body and then carry a pot of milk on their heads during the two hour walk from one temple to another.
The pilgrimage shows Arasan's devotion, and acknowledges the power of the gods—it is said that gods will help devotees feel no pain at all.
Tweet