Holiday Shopping: Bust the Stress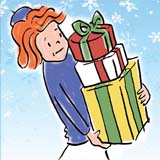 Get the facts on holiday gift giving.
The holidays are approaching. Do you want to be like the average American, who overspends on gifts every December?
These costs can make the season more stressful than it should be.
You shouldn't be worrying about how much money you spent on the gift for your best friend. That takes away from the best aspects of the season—food, family, and friends.
Instead, make a simple holiday budget and follow it. You'll save money and enjoy your stress-free holiday.
Avoid the hassles
Shopping for gifts should be fun, easy, and affordable. That's the exact opposite of the complete hassle that it tends to be. To make it easier, decide:
How much money you want to spend
Who you want to give gifts to
What you want to give them
Write down the answers to those questions. This is the first part in creating a personal budget...
Tweet