The College Life: Shilpa's Story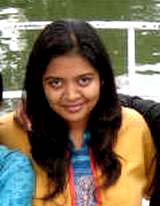 "I'm finally THERE!"—Shilpa


A new journey
I'm quite nervous right now. I am going to start college today. I am extremely excited because I am finally THERE, but at the same time, I am nervous.
This college is one of the best when it comes to a lot of things, especially culturals.
The six simple rules of being in an all-women's college
My first day of college was fun and I did learn something that day—a lot of things, actually. While these are the "rules," there are lots of people, like me, who don't follow all of them! I only follow the rules that I'm comfortable with.
Everyone has to have a boyfriend.
The innocent-looking ones are the most experienced.
When you're in college, you have to bunk classes and attend movies.
Break the dress code.
Mobile phones, ipods/mp3 players are daily essentials.
Everyone must color and straighten their hair. It should be pinpoint needle straight.
College is an investment
While students are always concerned about having the right accessories and the right clothes, our college fee structures are also on our minds. The fee structures for college are different depending on the college:
A normal engineering college (four years) costs 1.5 Lakhs (about $3,688);
A top engineering college (four years) costs about 4 Lakhs (about $9,900);
Additional professional courses cost 20,000-35,000 Rupees (about $495 to $866.25) each semester;
The exam fee costs 500 Rupees (a little more than $12).
Rattled by Rupees? Try this currency converter.


The cost for additional professional courses is much less at an art and science college. At my college, the semester fee varies from 7,000 to 15,000 Rupees (about $173.25 to $371.25), depending on the course taken.
Exam fees are a little less too—about 400 Rupees. Scholarships are given to some students, but it is not a very famous concept in India.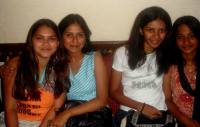 Music is life!


Home sweet home is school sweet school
Maybe it's because scholarships aren't popular, but in India, most people don't move out to go to undergraduate school.
Hostels are accommodation houses for students and working women who are from different cities. They pay on a quarterly or yearly basis. The hostelites (the students who live in hostels) have a lot of fun. They have hostel nights where they have a theme and just have fun.
But you know what? My friends and I have a lot of fun! We hang around at some of the pubs/discos some Fridays and have a lot of sleepovers. Three times a month, we all spend an entire day together.
We meet for lunch, go bowling, watch a movie, hang out at the beach and return to someone's place to have fun there and either crash at their place or go home.
Tweet