The 'Major' Decision
Part 3 in a series on going to college



Part 1: Applying

Part 2: Paying

Part 4: Surviving


It starts when we are kids. Everyone has that ambitious career goal to be a firefighter or an astronaut.
Around middle school, I decided I wanted to be a pediatrician. All through high school, I took advanced science courses to prepare for college and the pre-med programs.
But near the end of my senior year, I began to think about my future and how much I wanted to do something else.
When I registered for college, instead of declaring a science major, I decided to go in undeclared.
My school has wonderful workshops to expose you to various careers and majors. I attended a business major workshop and surprisingly found my major there!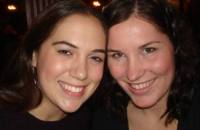 Even if you have it all figured out in high school, be open to changing your major.
—Kelsey (right)


Do you need to think about your major now?
You might be thinking, "Why do I need to start thinking of a college major if I'm still in high school?"
You're probably more concerned about getting into college than what you are going to do when you get there.
But start paying attention to the classes you enjoy the most in high school. This can give you a general idea of a field you might like to go into.
For example, if you have an idea of what you want to major in, it will help you decide what schools to apply to, and which one to attend.
The key is to get an idea of what you want to major in.
Nothing needs to be set in stone, because something will more than likely change. You'll want to be ready and flexible...
Tweet