Wanted: Used School Supplies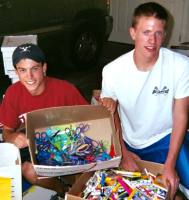 Jeff (right) and I survey the boxes of donations.


The children beam with excitement as I give them backpacks, folders, pens and pencils.
They are so enthusiastic about the simple provisions. They dive into them, trading different color folders with one another.
I finally understand what community service is all about. Knowing I am making a difference in someone else's life makes all the hard work worthwhile.
Look at what we're throwing away!
Last spring, my friend Jeff and I started a unique community service project that involved collecting used school supplies that families were planning to discard.
We devised a way to transfer the supplies from one elementary school and donate them to another, where such supplies were lacking.
The project helped many children get the school supplies they desperately needed.
Now I am able to teach others how to make their own successful community service project.
First identify the need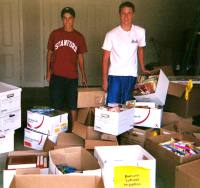 Jeff (right) and I were awed by the generosity.


The first part of any project is to identify the need. Choose a specific problem a group of people is experiencing and someone else who is capable of helping solve the problem.
One of my teachers inspired my understanding of the need. She was working at an underserved elementary school in the Denver Public School District and she made it clear that they had insufficient school supplies.
Over the telephone she told me that more than 85% of the students at this school "are eligible to receive free or reduced-price lunches, and many come from single parent households."
Many of these students don't have the money necessary to buy their own school supplies. By luck, the elementary school that I had attended was perfect for donating the supplies.
At my school, most students clean-out their lockers at the end of the year and take their supplies home.
The following year these same students get brand new supplies.
It all came together in my mind: revelation—why not donate the supplies to a local school that has more of a need for them, since they're not being used?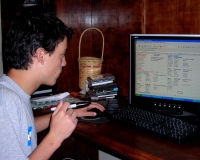 I spent a lot of time using Excel spreadsheets to help organize the project.


Develop a plan
The next step involves making a plan of attack. Include:
A list of all the steps that will be involved during the project
Dates for when certain steps need to be accomplished
The names and phone numbers of people who are participating in the project
I was constantly communicating with the principals of both schools to talk about planning the drive. Excel spreadsheets allowed me to stay organized and were perfect for making a timeline of the project.
You or even you and a friend can't do this alone, you have to....
Tweet