Plastic Cards—When You're Ready for Debit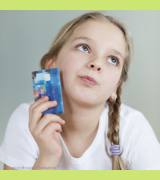 What does "paying with plastic" mean?
If you're like many middle school students, you have steady income from some kind of job, such as babysitting, yard work, selling crafts, pet sitting, and so forth.
You might be interested in a debit card. Paying with plastic gives you freedom and allows you to leave your change at home.
The best way to show your parents that you're ready is to learn how debit cards work.
Why use plastic at all?
There are many other good reasons for getting a debit card. They're really convenient. Debit cards:
Are accepted almost everywhere
Are fast
Allow you to carry less cash
Draw cash out of your checking account
Debit card: your own money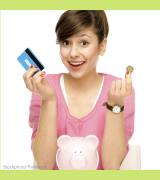 Debit cards use your money— but you still have to be smart about it.
A debit card gives you access to your own money. It works like a check because it uses money from your checking/share draft account.
Having a debit card isn't like having unlimited money. You need money in your checking account in order to pay for something with a debit card.
For example, say you want to use your debit card to buy an iPad for $499. You must have at least $499 in your checking account. When you swipe your card, the $499 automatically leaves your account.
Don't spend too much
Sometimes people lose track of the money they have in their account and they try to spend more than they have. When this happens, two things can occur:
Your card can be declined
The transaction goes through, and you get charged overdraft fees.
Having a card declined is embarrassing enough, but the real problem is when you are charged for an overdraft. You might not even realize you've overdrafted until it's too late. That's why it's important to know how much is in your account at all times.
Luckily, many credit unions have online and mobile banking to help you keep track of your balances.
Debit cards aren't the only kind of plastic...
Tweet