Credit Union Cartoons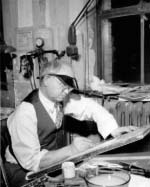 Stern's cartoons taught people what credit unions stand for.


Cartoons can be used to tell a variety of stories. Some show ideas that might take many words to express.
In the early 1900s, Joe Stern created drawings that showed people ideas about credit unions.
Stern was born in Austria in 1891. His family moved to the U.S. in 1898. He loved to draw pictures of people while growing up.
As a young man Stern turned his love into a job. He drew pictures of people and events for newspapers and magazines. He received many awards for his work.
In the 1920s Stern was hired by The Bridge, a magazine about credit unions. He drew cartoons that represented what credit unions stood for.
Credit unions were still fairly new in the United States. As credit unions were forming in the U.S., cartoons were a way of marketing to potential members about their benefits.


Credit unions protect members from economic tough times.


Stern designed the Little Man Under the Umbrella as the logo for credit unions. Over the years, he drew many other cartoons about credit unions.
Stern's cartoons show the basic ideas that credit unions stand for:
Stopping usury, or loan sharking. It means putting an end to lending people money at very high interest rates—making them pay back a lot more money than they borrowed.

Teaching people how to save money and providing a safe, fair place to save. Credit unions pride themselves on their commitment to helping members improve their financial health.

Helping credit unions grow by showing that credit unions can be trusted. When people know their money is insured in credit unions the same way as in banks, they can trust credit unions with their money.
Let's look at some of Stern's cartoons to see what they say about credit unions...
Tweet