Get Used to it: Life on the High Seas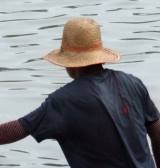 Every day, fishermen go out to sea at Betu Ferringhi Penang, off the coast of Malaysia.


The sea is choppy. The fishing boats—fastened to posts on the jetty with thick ropes—bob up and down on the water's surface. Their hulls knock against each other with each gust of wind.
There are at least ten of these boats secured to the jetty in a small fishing village in Batu Ferringhi Penang, in the Malaysian state of Pulau Penang at any one time.
Every day, fishermen wearing straw hats take turns to dock and push these boats off from the harbor. Each goes out to sea for a different reason:
Some fishermen are out at sea to net fish that will then be sold at wet markets;
Others ferry curious tourists out to sea on trips to scour the sea for fish.
It's a joke among the Malaysian fishermen that only those with "stomachs of steel" can survive the turbulent sea.
Meet Dharma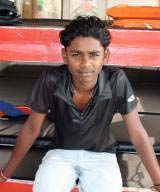 Meet Dharma, a 15-year-old with an iron stomach.


Dharma Iswaran, 15, has that kind of stomach for the choppy waters at sea. It's no surprise: he's been working on the sea since he stopped going to school when he was 12.
"I stopped going to school so I can sell fish and make money," he explains, "I want to be a real fisherman one day and operate my own boat."
Currently, Dharma is still learning the ropes on a small boat. He's a helping hand on a boat that ferries tourists out to sea for three-day long fishing trips. He takes orders from the captain of the boat, a 46-year-old fisherman named Ah Min.
Dharma may be too young to steer a boat all by himself, but this does not mean he is left with only menial tasks to accomplish.
Captain Ah Min makes sure to keep him busy. Dharma's boat duties include escorting tourists down the jetty towards the boat, teaching them how to set bait and transferring the fish into plastic ice-filled containers to keep them fresh.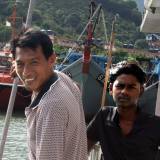 Dharma (right) and the captain help tourists experience the seas off the coast of Malaysia.


Every day, when these tasks are completed, he is paid RM50 (50 Malaysian Ringgits, or US$14.16) for his efforts.
Each small fishing boat takes as many as twelve tourists at a time on three-day fishing trips. Each tourist pays RM5,000 (US $1,416) for the trip. This amount covers the cost of diesel fuel, which is about RM800 (US $226.59) a day, as well as food and lodging.
A typical tourist catches about 20 fish—mostly grouper and sea bass - over three days. Dharma, who is also in charge of cleaning the boat, later cooks these fish for the three meals a day the tourists have on the boat.
"But it is unlikely they will be able to eat much due to sea sickness," said the captain in Mandarin. "Some get over their sickness after a few days, others just throw up for the whole duration." He chuckles at the thought of it.
Many have two jobs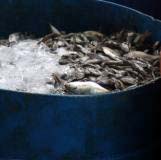 Dharma first ices the fish, to prepare for transport.


When Dharma is not out at sea on these fishing trips, he is hard at work doing something else. On these other days, he helps Captain Ah Min haul fish from his boat onto the back of a truck headed for Teluk Kumbar, his home town.
Once Dharma reaches Teluk Kumbar, he unloads the fish and sells them at the village's wet market. He earns about RM30 (US$8.49) a day doing this.
This is back-breaking work. "There are many people at the market who bargain for lower prices and it is always very crowded. You have to always be alert, count money fast and bag the fish fast. My arms get very tired," says Dharma.
Dharma says that he sometimes gives customers discounts of about 20 percent, but only to the regular customers, or to those who buy a lot of fish at one time.
When the fishermen are done with a whole day's work...
Tweet