Swim Team--Jump in! Join the Fun!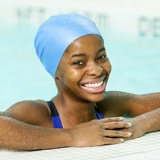 Here are a few basics.
Being on a swim team is a fun and easy way to get exercise and meet new people. It's not very expensive, either!
You'll need a few very basic things to join a swim team. I typically purchase all of my equipment online.
What's it cost?
These are the average costs of what you need to join a swim team. All prices are from SwimOutlet.com:
Swim Cap: Latex: $2 Silicone: $4
Bathing suits: $20 to $50
Goggles: $2 to $8
Fins: $20 to $30
Buoys: $5 to $10
Kickboards: $6 to $20
Bags and towels: Swim bags are between $20 and $60. Towels are $15 to $20.
Cost of joining: My swim team costs between $310 and $420 depending on your age a year.
It's easy to join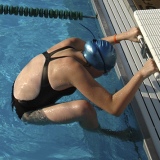 Give it a try.
Joining a swim team is simple and easy!
First, find a team near you. My team is only about a half hour away from where I live. Hopefully, a drive longer than that isn't necessary.
Next, look at the hours the team practices. Do the hours fit your schedule? Include the length of the drive. If the hours fit, sign up!
Once you're all signed up, purchase your equipment. I recommend shopping online. You can get quality equipment that's reasonably priced.
Finally, arrange transportation to swim meets and practices. You might need to consider gas money. If your parents can't take you to a meet or practice, arrange a carpool with a teammate's family.
When things go wrong...
Tweet