What Do You Know About Cellphones?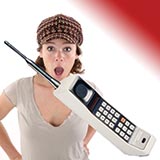 De-stress yourself.
According to a
Pew Research Center study
, 91% of Americans have cellphones—even my grandma has one!
Cellphone or smartphone?
Buying a cellphone isn't easy. There are so many choices that it can be overwhelming. The first choice you need to make when picking out a cellphone is whether you want a smartphone or a regular cellphone.
Regular cellphones cover the basics. They can make calls and send text messages. Most of them even have camera and a few games, but these features are not as developed as they are on a smartphone.
According to the Pew study, about 56% of people choose to buy a smartphone. Smartphones, like the Samsung Galaxy, the Nokia Lumia, and the iPhone are larger and more expensive than cellphones, but they can do a lot more. They're like minicomputers.
Smartphones are loaded with fun tricks. They have touch screens, sophisticated cameras, GPS, and tons of apps. You can get apps that do almost anything.
Consider a smartphone if:
Be sure to think about your future needs when you decide whether or not to get a smartphone. Most plans don't let you upgrade for two years, so you'd better like what you pick.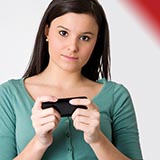 Things to think about when deciding...

Picking the right operating system
No phone does everything. Once you've decided smartphone or not, you have to pick the right type.
If you're getting a regular cellphone, the rest is easy. Rank the features that are most important to you, and pick the phone that best suits your needs.
If you want a smartphone, it's more complicated. Before you can pick features, you need to pick an operating system. Three major operating systems are:
iOS for iPhone
All have strengths and weaknesses; which you choose comes down to personal preference.
According to the Pew study, Androids are the most popular phones, with 28% of phone owners saying they have an Android. iPhones are also popular, claiming 25% of phone owners.
Once you've picked your operating system, you have to pick a model...
Tweet