Running on Two Wheels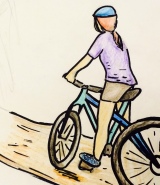 Give it a try!

"Ride as much or as little, or as long or as short as you feel, but ride." ­Eddy Merckx.
Bikes have been around for almost 200 years. From the start, bikes have helped us become healthier. Biking can exercise our legs, core, arms, and even our backs, but biking is not just about becoming fit.
My friends and I are in love with biking, because it is a great way to enjoy a nice, sunny day. It also gives us a healthy excuse to hang out and get to places a lot faster than walking.
Everyone should have a chance to experience the wonderful free reins of having a bike.
Save money, save the environment
Bikes are so great for so many reasons:
Save money
Good for the environment
Great ways to get around in the hot summer
Buy a high-quality bike?
If you can, in the beginning, buy a higher quality bike, it will save you money in the long run.
Biking instead of using cars saves the environment from lots of harmful pollution cars give off.
Even riding your bike a little in the summer to meet up with friends or grab some food nearby, will help our environment.
In the summer you could choose to ride in your car, but nothing beats a bike ride that provides a natural breeze, fresh air, and a beautiful outdoor experience.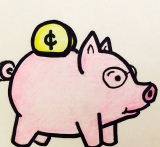 Move it from the piggy to the credit union!

First comes the money
Before we even think about bike riding, do you have a bike? Is it safe, and comfortable?
Just like shoes, you do not want your bike to be too small because it will be cumbersome and if it's way too big, you could fall.
When you want to buy a new or used bike, I would suggest starting a savings plan. Bikes can be very expensive, even after proper research to get the best deal possible.
For your savings plan, I would suggest starting up an account named "Bike" at your credit union. This way you can deposit money in,
let it earn interest
, and when the time is right, take that money out.
How to choose your bike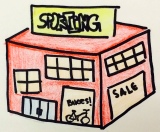 Look at specialty stores, too.
Once you have a savings plan the next step is to do your research. Narrow down your selection by making a list of things you prefer on a bike, like the color and style.
Then make a list of personal requirements that your bike must meet, like the height that suits you, and the type of brakes—hand or foot.
After you find a few bikes that you like, compare prices and other features. Bikes at popular stores can range from $80 to $2,000 and up, so I advise you spend time thinking and comparing prices before spending all of that money.
Finally visit your local thrift store or garage sales to see if there are any bikes that fit your budget and work for you. This is a huge way to save money if there is a bike you like.
Now that you have a fabulous ride you can start to personalize and customize your bike...
Tweet